December, Year-End Auto Sales Mixed
Monday, January 8, 2018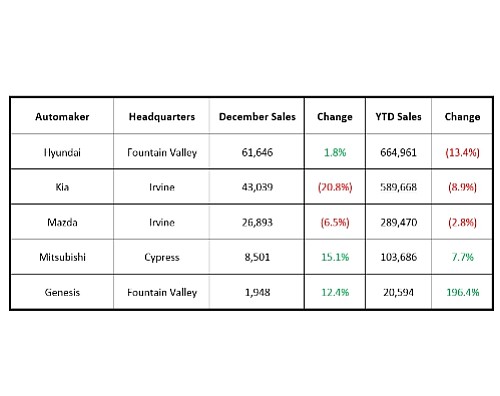 Sales for OC automakers were mixed in December and in year-end totals.
Hyundai Motor America saw a slight bump in sales for the month as year-to-date sales declined.
Kia Motors America Inc. and Mazda Motor of America Inc. dropped in both categories, while Mitsubishi Motors N.A. Inc. and Hyundai's Genesis brand had gains for the month and year to date.
Research firm Autodata Corp. reported car and light truck sales fell to an annualized rate of 17.9 million units from 18.2 million in December 2016.
The decline is projected to continue as automakers across the country forecast weaker overall sales this year, thanks to concerns over rising interest rates that would increase monthly car payments, according to Autodata.