CES 2018: Kia's EV Concept Car
Monday, January 8, 2018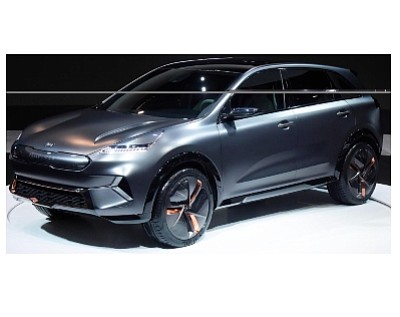 Kia Motors Corp. and its Irvine-based North American unit Monday in Las Vegas introduced a concept electric vehicle that can travel 238 miles on one charge.
The Niro EV Concept is a compact SUV with a battery-electric powertrain and an Active Pedestrian Warning System that combines front view cameras, object recognition technology and front speakers, which alert pedestrians and cyclists of its presence.
"Through an era of significant change we are excited to take a new leap forward," Woong-cheol Yang, vice chairman and head of Hyundai and Kia research and development in Seoul said during a press conference at Mandalay Bay on the eve of CES.
The vehicle gets 115 miles of range from a 30-minute charge, Yang said.
The world's largest consumer electronics show kicks off Tuesday in Sin City, where more than 3,900 companies will exhibit new products and services through the week.
The showcase has evolved in recent years from a gadget fest loaded with PC and TV launches to a more encompassing event for a variety of sectors, including automakers, which plan to debut several new models and concepts.
Kia Motors America in Irvine is part of Seoul-based Hyundai Motor Group. Hyundai's North American unit, Hyundai Motor America, is based in Fountain Valley.
Technology Editor Chris Casacchia is reporting from CES in Las Vegas this week.