Midday Stock Roundup
Wednesday, February 28, 2018
Share this article: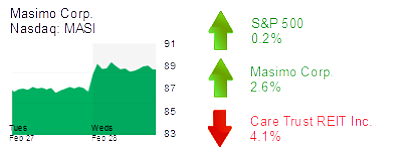 The S&P 500 was up 0.2% in midday trading to 2,750.50.
The Dow Jones Industrial Average was flat at 25,403.50.
The Nasdaq climbed 0.5% to 7,365.67.
The yield on a 10-year Treasury bond fell 0.9% to 2.88%.
The price of gold was up 0.1% to $1,320.
HEALTHCARE
Masimo Corp. (Nasdaq: MASI) in Irvine was up 2.6% to $88.29 and a $4.6 billion market cap. The device maker beat Wall Street forecasts in its quarterly report yesterday.
Care Trust REIT Inc. (Nasdaq: CTRE) in San Clemente was down 4.1%. The healthcare facility owner said net income for the quarter was $2.3 million, down from $8.4 million, and annual net income $25.9 million, down from $29.4 million.
TECHNOLOGY
Veritone Inc. (Nasdaq: VERI) in Costa Mesa was down 1.5% to $14.06 and a $225 million market cap. Shares in the media and software firm have fallen by a third in the last two trading sessions after jumping about 20% Monday.