Taco Bell's $9.8 Billion Bests Burger King
Wednesday, February 21, 2018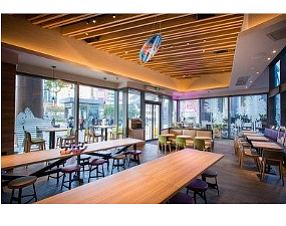 Taco Bell systemwide sales rose 5% in 2017 to $9.8 billion, making it the fourth-largest U.S. restaurant brand by that metric, according to early numbers from Chicago-based food industry consultant Technomic Inc. Taco Bell passed Burger King, last year's No. 4 chain, which grew 1.5% in 2017 to $9.3 billion.
The top three U.S. restaurant brands are McDonald's at $37.5 billion, Starbucks at $18.4 billion and Subway at $10.8 billion in systemwide sales.
Taco Bell surpassed Burger King on the strength of new, low-priced menu items—$1 nacho fries—that can be added to orders; unconventional product components, such as fried-chicken taco shells; and attracting younger customers, Technomic said.
Burger King faces heavier competition from a renewed strength at McDonald's and from better-burger chains including Irvine-based Habit Restaurants Inc. and Shake Shack.