Midday Stock Roundup
Thursday, February 15, 2018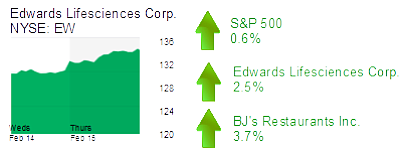 The S&P 500 was up 0.6% in midday trading to 2,715.15.
The Dow Jones Industrial Average rose 0.6% to 25,048.91.
The Nasdaq climbed 1% to 7,215.62.
The yield on a 10-year Treasury bond jumped 2.2% to 2.90%.
The price of gold was 1.7 % higher at $1,353.
HEALTHCARE
Edwards Lifesciences Corp. (NYSE: EW) in Irvine was up 2.5% to $133.38 and a $28.2 billion market cap. The heart valve maker said its self-expanding transcatheter heart valve received CE Mark approval, which allows the product to be marketed in Europe and parts of Asia.
Endologix Inc. (Nasdaq: ELGX) in Irvine was up 9% to $4.13 and a $345 million market cap. It had by midday traded shares at a rate triple its 90-day average and is scheduled to report results on Feb. 21. Endologix makes devices to treat abdominal aortic aneurysms.
RESTAURANTS
BJ's Restaurants Inc. (Nasdaq: BJRI) in Huntington Beach was up 3.7% to $39 and an $805 million market cap. The casual-dining chain's shares were upgraded to "outperform" from "neutral" at Wedbush, with a price target of $44. It's scheduled to report results on Feb. 22.
REAL ESTATE
New Home Co. Inc. (NYSE: NWHM) in Aliso Viejo declined 2.6% to $11.54 and a $241 million market cap. The developer and homebuilder's shares were downgraded to "market perform" from "market outperform" at JMP.