Mazzo Retrial to Jury
Wednesday, February 14, 2018
Share this article: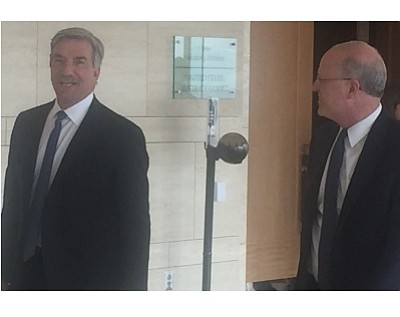 For the second time in a year, the fate of Jim Mazzo is in the hands of a federal jury. Prosecutors are again alleging that the founder and former chief executive of Advanced Medical Optics (AMO) violated insider trading laws when he disclosed to his friend and Laguna Beach neighbor Doug DeCinces that his company was being bought by Abbott Laboratories.
DeCinces was convicted of 14 counts of insider trading in the spring 2017 trial. Judge Andrew Guilford declared a mistrial in the case against Mazzo when the jury could not reach a decision.
In this retrial prosecutors added four counts of perjury and a new witness, DeCinces.
"What you do have in this case is a first-hand witness," Assistant U.S. Attorney Stephen Cazares told the jury in his rebuttal close Wednesday afternoon. DeCinces signed what's commonly called a "cooperating agreement" with prosecutors. He told the jury on the first day of testimony that he received the information on the Abbott-AMO merger from Mazzo on several occasions, the last time at a dinner at Big Canyon Country Club in Newport Beach on January 4, 2009.
This contradicts DeCinces' maintenance of innocence all these years and the story his lawyer told the court in the first trial.
Mazzo defense lawyer Richard Marmaro told the jury that "none of those conversations is corroborated," and that the former Angels baseball star changed his testimony in hopes of a lighter sentence.
DeCinces made $1.3 million trading AMO stock, buying in the months preceding the announcement, selling after the Abbott buyout of $22 per share, a substantial premium, was made public on January 12, 2009. DeCinces also told several friends to buy AMO. The friends collectively made a similar profit.
Prosecutors agree that Mazzo made no money, but by disclosing "material non-public information," they contend he violated his fiduciary duty and securities law.
Marmaro, who heads up the white-collar defense practice of Skadden, Arps in Los Angeles, countered by asking the jury "why would Jim Mazzo risk everything he cared about in life, his friends, family and reputation—for no money? Prosecutors can't answer why ... so you must dismiss this case."
Mazzo's defense team contends that DeCinces had other friends and colleagues touting the former Angels third baseman onto AMO stock, including DeCinces' stock broker and another Laguna neighbor, investor Dick Pickup, who had been buying AMO shares for several years.
Jim Mazzo, 60, is one of Orange County's highest profile executives over the last generation. He followed a 22-year ascent at Allergan in eye care with the founding of Santa Ana-based AMO, a manufacturer of devices for eye surgeries. He's presently global president of opthalmology for Carl Zeiss Meditec.
Mazzo is equally known for his civic activities. He was a founder of the Gavin Herbert Eye Institute at University of California-Irvine, is a member of the Board of Trustees at Chapman University and in 2012 received the Impact Award from United Cerebral Palsy of Orange County.
Defense lawyers called at least ten character witnesses including former Allergan Chief Executive David Pyott and longtime Chapman President Jim Doti. "He's held in the highest esteem by everyone I know," Doti testified.
Prosecutor Cazares called the defense witnesses "Jim Mazzo and his executive friends ... a parade of CEOs and executives."
The jury is composed of eight women and four men. This trial lasted 18 days, jurors getting the case late Wednesday afternoon, perhaps enough time to select a foreperson. Mazzo faces twenty counts in all, the four perjury charges and 16 violations of SEC rules, each count tied to a specific stock purchase by DeCinces.