Midday Stock Roundup
Friday, February 9, 2018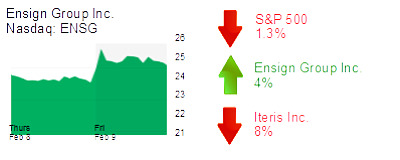 Indices were down more than 1% apiece on continued market turmoil.
The S&P 500 declined 1.3% to 2,547.21. The Dow Jones Industrial Average dropped 1.7% to 23,446.15. The Nasdaq fell 1.7% to 6,664.32.
The yield on a 10-year Treasury bond lost 2% to 2.79%.
The price of gold was 0.3% lower at $1,314.
HEALTHCARE
Ensign Group Inc. (Nasdaq: ENSG) was up 4% to $24.50 and a $1.3 billion market cap. The post-acute care services provider beat analyst expectations on earnings and raised 2018 guidance. Shares rose about 9% on the week.
TECHNOLOGY
Iteris Inc. (Nasdaq: ITI) in Santa Ana was down 8% to $5.37 and a $177 million market cap. The traffic and agricultural sensors maker reported 15% higher revenue and a net profit compared with a net loss, year-over-year, for its most recent quarter, but the net profit came from a one-time income tax benefit from U.S. tax reform.