Taco Bell Parent Puts $200M to Delivery
Thursday, February 8, 2018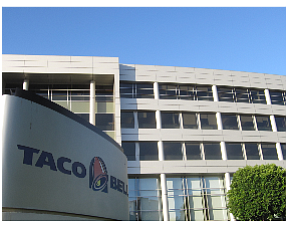 Yum Brands Inc. in Louisville, owner of Irvine-based Taco Bell, will buy 3% of GrubHub Inc. in Chicago for $200 million.
The deal is intended to expand online and delivery revenue, as well as co-marketing work, for the local unit, and give GrubHub "additional liquidity" to develop its delivery network, Yum said in a news release.
Taco Bell is the No. 1 OC-based restaurant chain, with about $10 billion in annual sales, 2,600 local employees at its headquarters in the Irvine Spectrum area, and some 80 Taco Bells, Business Journal research shows.
Fifteen hundred of its locations have agreements with food-delivery services; the chain has 7,000 units, 95% in the U.S.
GrubHub delivers food from 80,000 restaurants in 1,600 U.S. cities, news reports said.
Retailers, grocery store companies, and restaurant chains have expanded their partnerships and investments in food- and meal-delivery offerings, including internal moves and acquisitions.
Amazon.com Inc. has also said it wants to grow its restaurant delivery work.