Midday Stock Roundup
Monday, February 5, 2018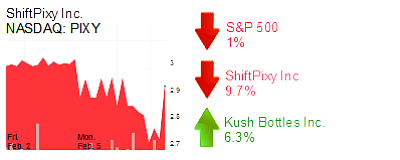 Indices continued to fall amid concerns about rising inflation and higher government bond yields. The S&P 500 fell 1% to 2,734.57. The Dow Jones Industrial Average dove 1.5% to 25,148.48. The Nasdaq dropped 0.9% to 7,174.35.
The yield on a 10-year Treasury bond fell 0.4% to 2.84%.
The price of gold was flat at $1,337.
CANNABIS
Santa Ana's Kush Bottles Inc. (OTC: KSHB) climbed 6.3% to $5.58 and a $346 million market cap. Shares have tripled since November and climbed as high as $8.30 on Jan. 16, when the company, a supplier of paraphernalia to the cannabis industry, reported fiscal first-quarter revenue jumped 258% to $8.85 million.
TECHNOLOGY
Irvine's ShiftPixy Inc. (Nasdaq: PIXY) fell 9.7% to $2.75 and a $79 million market cap. Shares of the company, which provides temporary employees to restaurants, have declined 33% since Jan. 22, when the startup reported a 15% increase in fiscal first-quarter revenue to $6.5 million.