Midday Stock Roundup
Friday, February 2, 2018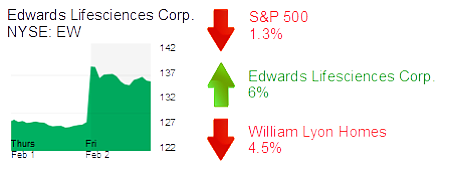 Indices were down more than 1% apiece in midday trading amid a sell-off in equities, strong jobs data pointing to higher interest rates and a jump in treasury yields.
The S&P 500 fell 1.3% to 2,785.63. The Dow Jones Industrial Average dove 1.6% to 25,779.00. The Nasdaq dropped 1% to 7,300.31.
The yield on a 10-year Treasury bond leapt 2.1% to 2.83%.
The price of gold was 0.8% lower to $1,334.
HEALTHCARE
Edwards Lifesciences Corp (NYSE: EW) in Irvine was up 6% to $134.30 and a $28.4 billion market cap. The heart valve maker reported higher fourth-quarter sales and earnings. It beat analyst estimates for both and boosted 2018 sales and earnings guidance.
REAL ESTATE
William Lyon Homes (NYSE: WLH) in Newport Beach was down 4.5% to $26.09 and a $990 million market cap on above-average volume.