Midday Stock Roundup
Friday, December 28, 2018
Share this article: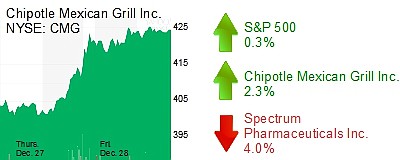 The S&P 500 was up 0.3% to 2,4947.27; the Dow Jones Industrial Average rose 0.3% to 23,207.06; the Nasdaq was up 0.4% to 6,605.61.
The yield on a 10-year Treasury bond declined 0.3% to 2.73%.
The price of gold was flat at $1,281.
The price of oil rose 1.1% to $45.12.
RESTAURANT
Newport Beach-based restaurant chain Chipotle Mexican Grill Inc. (NYSE: CMG) was up 2.3% to $423.93 with a market cap of $11 billion. Shares have climbed 35% this year.
HEALTHCARE
Spectrum Pharmaceuticals Inc. (Nasdaq: SPPI) in Irvine was down 1.5% to $8.73 and a market cap of $927 million. Shares of the drugmaker are down 65% since hitting a 52-week high of $25.29 in August.