Midday Stock Roundup
Thursday, December 27, 2018
Share this article: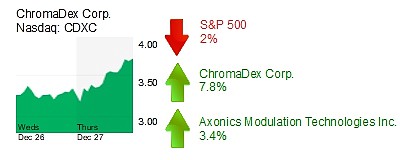 Markets declined in midday trading the day after Wednesday's surge.
The S&P 500 was down 2% to 2,415.82; the Dow Jones Industrial Average 2% to 22,424.04; the Nasdaq 2.7% to 6,379.54.
The yield on a 10-year Treasury bond fell 1.9% to 2.74%.
The price of gold was up 0.6% to $1,281.
The price of oil fell 2.5% to $45.08.
HEALTHCARE
ChromaDex Corp. (Nasdaq: CDXC) in Irvine was up 7.8% to $3.58 and a $196 million market cap. Shares in the nutrition products maker are up 30% in four trading sessions since it said Nestle Health Science licensed rights to ChromaDex's flagship Tru Niagen ingredient.
Axonics Modulation Technologies Inc. (Nasdaq: AXNX) was up 3.4% to $14.76 and a $410 million market cap in a generally down market. The maker of devices to treat urinary dysfunction went public Oct. 31 at $14 a share.