Midday Stock Roundup
Thursday, December 20, 2018
Share this article: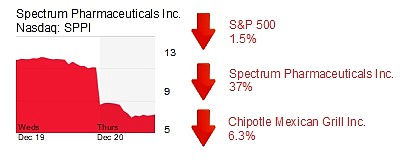 The stock market today continued slipping lower after the Federal Reserve yesterday lifted short-term interest rates for the fourth time this year.
The S&P 500 was down 1.5% to 2,469.80.
The Dow Jones fell 1.8% to 22,912.50.
The Nasdaq declined 1.7% to 6,524.52.
The yield on a 10-year Treasury bond decreased 0.1% to 2.80%.
The price of gold increased 0.8% to $1,267.
The price of oil was down 4.2% to $46.14 a barrel.
HEALTHCARE
Shares of Spectrum Pharmaceuticals Inc. (Nasdaq: SPPI) plummeted 37% to $6.61 and a nearly $700 million market cap after the drugmaker announced yesterday that one of its drugs, poziotinib, did not get Food and Drug Administration's designation of "breakthrough therapy." The drug is designed to treat certain types of lung cancer. The company said its overall development plan and timeline for drug approval remains unchanged. The Henderson, Nev.-based drugmaker has an administrative and research and development facility in Irvine.
San Clemente-based Glaukos Corp. (NYSE: GKOS) declined 6.8% to $53.78 and a $1.9 billion market cap. Shares of the device maker, which makes minimally invasive surgical devices for treatment of glaucoma, are down more than 20% since its 52-week high of about $68 earlier this month.
RESTAURANTS
Chipotle Mexican Grill Inc. (NYSE: CMG) was down 6.3% to $400.22 and an $11 billion market cap following an item on The Street's "Real Money" website suggesting "sellers of CMG have become more aggressive."