Midday Stock Roundup
Wednesday, December 19, 2018
Share this article: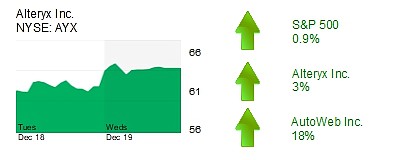 The S&P 500 was up 0.9% in midday trading.
The Dow Jones Industrial Average also rose 0.9%, to 23,884.48.
The Nasdaq climbed 0.7% to 6,829.11
The yield on a 10-year Treasury bond declined 0.4% to 2.81%.
The price of gold ticked up 0.2% to $1,256.
The price of oil was 3.4% higher to $47.80 a barrel.
TECHNOLOGY
Alteryx Inc. (NYSE: AYX) in Irvine was up 3% to $62.62 and a $3.8 billion market cap. The data analytics software maker's shares have recovered most of the 10% pull-back on Dec. 17; Alteryx's shares have more than doubled this year.
AUTOMOTIVE
AutoWeb Inc. (Nasdaq: AUTO) in Irvine was up 18% to $2.80 and a $36 million market cap on volume triple its daily average of the past three months. The automobile sales leads provider has struggled in 2018 as shares are down by two-thirds year-to-date. On Dec. 17, it named a new chief financial officer and chief technology officer—the latter a new role at the company.