Midday Stock Roundup
Tuesday, December 18, 2018
Share this article: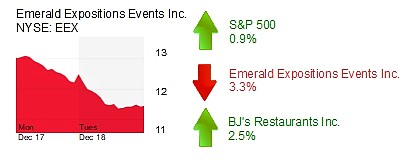 The S&P 500 was up 0.9% in midday trading to 2,568.67.
The Dow Jones Industrial Average climbed 1.3 % to 23,897.59.
The Nasdaq rose 1.3% to 6,842.47.
The yield on a 10-year Treasury bond declined 0.8% to 2.84%.
The price of a barrel of crude oil fell 4.8% to $47.49.
The price of gold was up 0.1% to $1,253.
SERVICES
San Juan Capistrano-based trade show operator Emerald Expositions Events Inc. (NYSE: EEX) was down 3.3% to $11.39 with a market cap of $836.7 million. Shares have fallen nearly 50% for the year.
RESTAURANTS
BJ's Restaurants Inc. (Nasdaq: BJRI) in Huntington Beach was up 2.5% to $54.20 with a market cap of $1.2 billion. The restaurant chain has declined 29% since reaching a 52-week high in September.