Midday Stock Roundup
Monday, December 17, 2018
Share this article: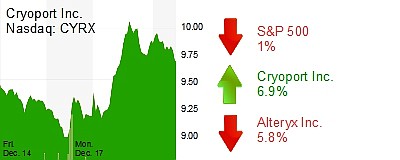 U.S. markets continued to decline amid signs of a global slowdown.
The S&P 500 was down 1% in midday trading to 2,573.46, the Dow Jones Industrial Average dropped 1.2% to 23,823.48 and the Nasdaq fell 0.9% to 6,849.50. All three have fallen about 8% since Dec. 4.
The yield on a 10-year Treasury bond declined 0.9% to 2.87%.
The price of a barrel of crude oil fell 1.7% to $50.32.
The price of gold rose 0.6% to $1,249.
HEALTHCARE
Irvine-based Cryoport Inc. (Nasdaq: CYRX) rose 6.9% to $9.78 and a $286 million market cap. The life sciences shipping and packaging firm said it received a $25 million investment from Petrichor Healthcare Capital Management that included the purchase of $10 million worth of shares at $10 each and the funding of a $15 million note, which is convertible at $13.11.
TECHNOLOGY
Alteryx Inc. (NYSE: AYX) fell 5.8% to $60.71 and a $3.73 billion market cap. Shares of the Irvine-based software company, which develops products used for data science and analytics, have still more than doubled this year.