Midday Stock Roundup
Friday, December 14, 2018
Share this article: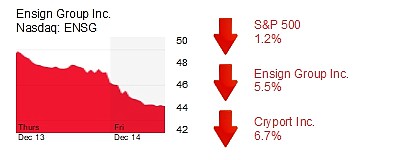 The major U.S. indexes all fell more than 1% in another volatile trading session, fueled by economic concerns about China and Europe, and blue chippers like Johnson & Johnson, Adobe Inc., and Costco Wholesale Corp.
The S&P 500 was down 1.2% to 2,618.78; the Dow Jones 1.5% to 24,227.15; the Nasdaq 1.2% to 6,985.49.
The yield on a 10-year Treasury bond was down 0.9% to 2.9%.
The price of a barrel of crude oil fell 2.6% to $51.20.
The price of gold fell 0.3% to $1,243.
HEALTHCARE
Ensign Group Inc. (Nasdaq: ENSG) in Mission Viejo was down 5.5% to $43.15 and a $2.2 billion market cap. Shares of the REIT owner of healthcare facilities are still up 85% this year.
Irvine-based Cryoport Inc. (Nasdaq: CYRX) fell 6.7% to $9.34 and a $273 million market cap. Shares of the life sciences shipping and packaging firm have declined 44% since hitting a 52-week high of $16.88 on July 2.