Midday Stock Roundup
Wednesday, December 12, 2018
Share this article: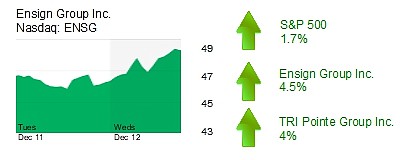 Indexes were higher in midday trading on an easing of trade tensions.
The S&P 500 was up 1.7% to 2,682.32, the Dow Jones Industrial Average 1.8% to 24,800.67, and the Nasdaq 2.2% to 7,187.75.
The yield on a 10-year Treasury bond rose 0.9% to 2.91%.
The price of a barrel of crude oil rose 0.9% to $52.11.
The price of gold was 0.2% higher to $1,250.
HEALTHCARE
Ensign Group Inc. (Nasdaq: ENSG) was up 4.5% to $48.64 and a $2.5 billion market cap. Shares in the Mission Viejo-based health facility REIT have more than doubled year-to-date.
REAL ESTATE
TRI Pointe Group (NYSE: TPH) in Irvine was up 4% to $11.88 and a $1.7 billion market cap. The developer and home builder yesterday said it bought Dallas-based Dunhill Homes for $60 million and will run it under its Trendmaker Homes unit in Houston. The two Texas cities are ranked first and second for U.S. housing starts, according to Metrostudy. Dunhill, which also has a senior housing arm, controls 1,500 lots in the Dallas-Fort Worth market.