Midday Stock Roundup
Monday, December 10, 2018
Share this article: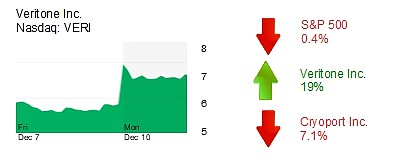 The S&P 500 fell 0.4% in midday trading to 2,622.82.
The Dow Jones Industrial Average declined 0.8% to 24,206.38.
The Nasdaq was down 0.1% to 6,963.34.
The yield on a 10-year Treasury bond rose 0.4% to 2.86%.
The price of gold declined 0.3% to $1,249.
TECHNOLOGY
Costa Mesa-based Veritone Inc. (Nasdaq: VERI) jumped 19% to $6.71 and a $130 million market cap. Apis Capital Management has submitted an all-cash offer of $10.26 for each share. Apis said Veritone's management "has stalled in moving forward" on the proposal. The online media ad-placement company is trying to break into artificial intelligence.
HEALTHCARE
Irvine-based Cryoport Inc. (Nasdaq: CYRX) declined 7.1% to $10.46 on light volume and a $306 million market cap. Shares of the life sciences shipping and packaging firm are 38% below their 52 week high in July.