Midday Stock Roundup
Friday, December 7, 2018
Share this article: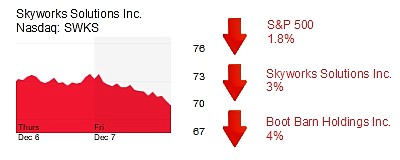 U.S. stocks again dropped amidst fears of a slowdown and rising trade tensions with China.
The S&P 500 declined 1.8% in midday trading to 2,648.69.
The Dow Jones Industrial Average fell 1.8 % to 24,505.32.
The Nasdaq plummeted 2.3% to 7,026.43.
The yield on a 10-year Treasury bond was down 0.1% to 2.87%.
The price of gold was up 0.7% to $1,252.
TECHNOLOGY
Skyworks Solutions Inc. (Nasdaq: SWKS) in Irvine was down 3% to $68.43 with a market cap of $12.2 billion. The chipmaker's shares are at a 52-week low.
RETAIL
Specialty retailer Boot Barn Holdings Inc. (NYSE: BOOT) in Irvine was down 4% to $21.23 with a market cap of $601.2 million. Shares are up 25% for the year.