Mazzo Criminal Case Dismissed
Friday, December 7, 2018
Share this article: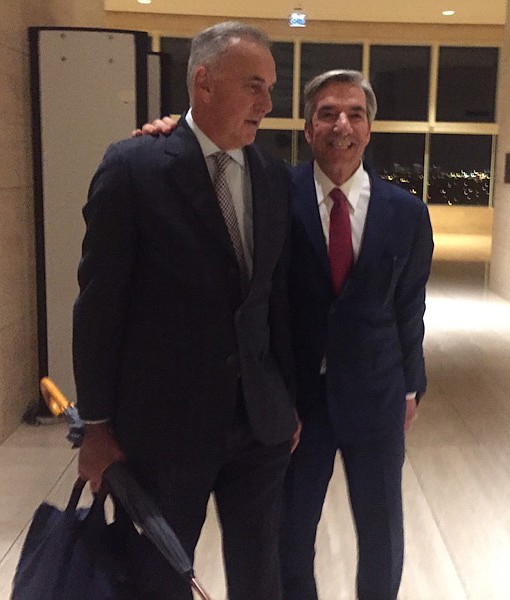 "Mr. Mazzo, you must be very happy."
With those words from Judge Andrew Guilford, James Mazzo's 10-year legal battle with the federal government over charges of insider trading and perjury were over.
Late Thursday at the Ronald Reagan Federal Building in Santa Ana, federal prosecutors asked Judge Guilford to dismiss all criminal charges against the former chief executive officer of Advanced Medical Optics Inc., "with prejudice," meaning the case is dismissed permanently.
Judge Guilford agreed.
One floor down, Judge David Carter summarily agreed to sign off on the Securities and Exchange Commission deal with Mazzo, where he will pay a fine of $1.5 million and agree not to serve as a director or chief executive of a publicly traded company for five years, without admitting any wrongdoing.
The SEC case was first filed in Carter's court so he had final say. And Carter wanted to know whether the SEC-Mazzo settlement, filed two weeks ago, was part of a broader agreement with the U.S. Attorneys' office to drop a third criminal trial against Mazzo. The first two ended in hung juries, the second this February, jurors voting 10-2 for acquittal on 19 of 20 charges, 11-1 on the other.
Once U.S. attorneys for the Central District of California told Judge Guilford they were dismissing the case vs. Mazzo, Judge Carter was satisfied.
The case against Mazzo dated to fall 2008, when the government alleged that Mazzo tipped off his friend, former Angels' third baseman Doug DeCinces, that Abbott Laboratories Inc. was looking to buy AMO.
DeCinces was convicted in the spring of 2017 on several counts of insider trading and awaits sentencing.
Mazzo didn't comment after today's rulings. His SEC agreement effectively prohibits him from ever talking about the Abbott-AMO transaction and subsequent legal probe.
Mazzo has been global president of ophthalmology for Jena, Germany-based Carl Zeiss Meditec AG since 2016.