Midday Stock Roundup
Tuesday, December 4, 2018
Share this article: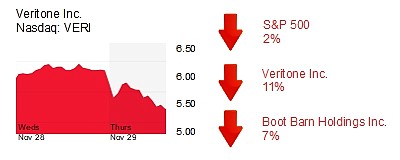 The major indexes all fell today amid heightened recessionary fears, doubts on the U.S. trade agreement with China and an overall down day for tech stocks.
The S&P 500 plunged 2% in midday trading to 2,735.71.
The Dow Jones Industrial Average decreased 1.8% to 25,357.46.
The Nasdaq declined 2.3% to 7,268.90.
The yield on a 10-year Treasury bond fell 2.2% to 2.92%.
The price of gold inched up 0.3% to $1,243.
TECHNOLOGY
Veritone Inc. (Nasdaq: VERI) in Costa Mesa plummeted 11% to $5.31 and a $102 million market cap. The company, which has struggled to convince Wall Street of the merits of its artificial intelligence technology, has seen shares nosedive 77% this year.
RETAIL
Boot Barn Holdings Inc. (NYSE: BOOT) in Irvine was down 7% to $22.42 on light volume and a $635 million market cap. Shares in the western wear chain are still up three fold in the last 18 months.