November Auto Sales Mixed
Monday, December 3, 2018
Share this article: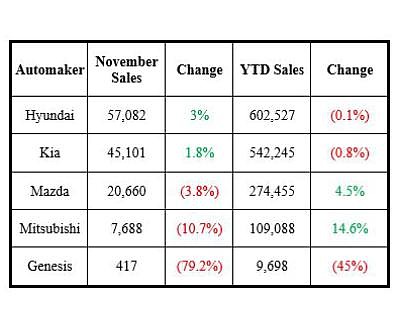 OC's automakers reported mixed sales results in November.
Hyundai Motor America in Fountain Valley reported a 3% increase in sales for the month, selling 57,082 units, while year-to-date sales remained flat at 602,527 units.
Irvine-based Kia Motors America said it sold 45,101 vehicles for the month, up 1.8% year-over-year with sales led by its Forte model. For the year, the company reported a 0.8% decline in sales to 542,245 units.
Mazda North American Operations in Irvine sold 20,660 units, down 3.8% year-over-year. Its year-to-date sales of 274,455 are up 4.5%.
Sales dropped 11% in November to 7,688 units for Mitsubishi Motors North America. The Cypress-based company reported year-to-date sales of 109,088, up 15% from the same period a year ago.
Hyundai's luxury brand Genesis in Fountain Valley had sales dropped 77% to 417 units. Year-to-date sales also declined by 48% to 9,698 units.