Midday Stock Roundup
Thursday, August 23, 2018
Share this article: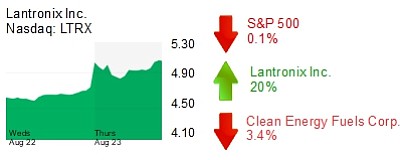 The S&P 500 was down 0.1% in midday trading to 2,859.38.
The Dow Jones Industrial Average declined 0.2% to 25,667.32.
The Nasdaq rose 0.1% to 7,899.00.
The yield on a 10-year Treasury bond dropped 0.1% to 2.82%.
The price of gold was 0.8% lower at $1,194.
TECHNOLOGY
Lantronix Inc. was up 20% to $5.07 and a $92 million market cap. The Internet of Things software maker reported net revenue of $12 million and net income of $752,000 in its most recent quarter, and full-year results of $46 million in revenue and $680,000 in net income.
SERVICES
Newport Beach-based Clean Energy Fuels Corp. (Nasdaq: CLNE) fell 3.4% to $2.85 and a $580 million market cap. Shares in the natural gas fueling station operator have settled back from a recent high of $3.97 in June following the announcement that a France-based global fuel conglomerate took a 25% stake in the company.
RESTAURANTS
Casual dining chain BJ's Restaurants Inc. (Nasdaq: BJRI) in Huntington Beach was up 3.4% in a second day of share price increases after an analyst upgrade. It closed up 2% yesterday.
HEALTHCARE
Glaukos Corp. (NYSE: GKOS) in San Clemente was up 3.6% to $42.81 and a $1.5 billion market cap. Shares in the maker of stents to treat glaucoma closed 2.5% higher yesterday.