Midday Stock Roundup
Thursday, August 16, 2018
Share this article: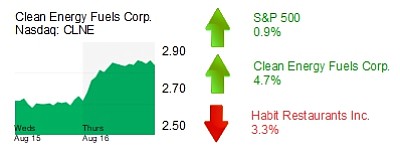 Indexes were up at midday on company earnings; shares of Walmart Inc. shot up almost 10% after the retailer released its second quarter report.
The S&P 500 rose 0.9%; the Dow Jones Industrial Average 1.6%; the Nasdaq 0.6%.
The yield on a 10-year Treasury bond rose 0.8% to 2.88%.
The price of gold was down 0.2% to $1,182.
SERVICES
Clean Energy Fuels Corp. (Nasdaq: CLNE) in Newport Beach was up 4.7% to $2.81 and a $571 million market cap. It operates natural gas fueling stations. A U.S. Energy Information Administration report on natural gas production is expected today.
RESTAURANTS
Habit Restaurants Inc. (Nasdaq: HABT) in Irvine was down 3.3% to $16.05 and a $418 million market cap. Shares in the fast casual burger chain are up by one-third in the two weeks since its last quarterly report.