Midday Stock Roundup
Wednesday, August 15, 2018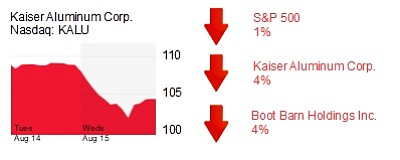 Major indexes were down at midday on trade tensions.
The S&P 500 fell 1% to 2,815.49; the Dow Jones Industrial Average, 0.8% to 25,094.72; the Nasdaq, 1.3% to 7,770.10.
The yield on a 10-year Treasury bond dropped 1.3% to 2.86%.
The price of gold fell 1.4% to $1,184.
MANUFACTURING
Kaiser Aluminum Corp. (Nasdaq: KALU) in Foothill Ranch was down 4% to $104 and a $1.7 billion market cap. Goldman Sachs downgraded shares to "sell" and set a $101 price target.
RETAIL
Boot Barn Holdings Inc. (NYSE: BOOT) in Irvine was down 4% to $27.04 and a $757 million market cap. Shares in the Western wear retailer are up about 13% since its quarterly report eight days ago.
TECHNOLOGY
Veritone Inc. (Nasdaq: VERI) in Costa Mesa was down 18% to $10.07 and a $182 million market cap. Shares in the media buyer and AI software maker have dropped 40% in two days since its quarterly report this week.