Midday Stock Roundup
Tuesday, August 14, 2018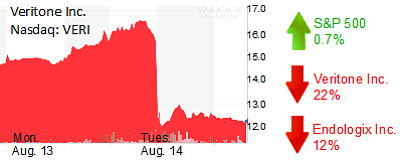 The S&P 500 rose 0.7% in midday trading to 2,840.14.
The Dow Jones Industrial Average climbed 0.5% to 25,302.19.
The Nasdaq increased 0.6% to 7,864.09.
The yield on a 10-year Treasury bond rose 0.4% to 2.89%.
The price of gold was up 0.2% to $1,201.
TECHNOLOGY
Costa Mesa-based Veritone Inc. (Nasdaq: VERI) plunged 22% to $12.27 and a $221 million market cap. The company, which is trying to break into artificial intelligence, reported second quarter results that missed Wall Street expectations. (See related web article here and related print article here).
HEALTHCARE
Endologix Inc. (Nasdaq: ELGX) in Irvine dropped 12% to $2.42 and a $203 million market cap. Shares in the maker of a device to treat abdominal aortic aneurysms have plummeted 49% since Aug. 9 when it announced a reorganization and slashed its 2018 revenue forecast as well as widened its expected annual loss.