Midday Stock Roundup
Monday, August 13, 2018
Share this article: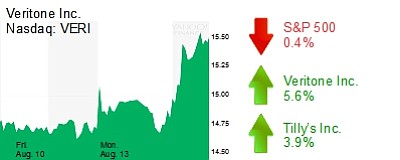 The S&P 500 fell 0.4% in midday trading to 2,821.90.
The Dow Jones Industrial Average declined 0.4% to 25,221.35.
The Nasdaq was down 0.1% to 7,829.62.
The yield on a 10-year Treasury bond rose 0.3% to 2.86%.
The price of gold declined 1.5% to $1,201.
TECHNOLOGY
Costa Mesa-based Veritone Inc. (Nasdaq: VERI) jumped 5.6% to $15.49 and a $278 million market cap. The online media ad-placement company that's trying to break into artificial intelligence announced it will acquire Wazee Digital for $15 million in cash and stock to expand into cloud management and licensing services. Denver-based Wazee reported net revenue of $19 million last year, when Veritone had $14.4 million in revenue. Veritone also announced its advertising unit plans to buy Performance Bridge Media for $6 million and could pay an additional $5 million in Veritone stock if the Binghamton, N.Y.-based company meets certain revenue benchmarks. It reported $3.7 million in revenue last year.
RETAIL
Tilly's Inc. (NYSE: TLYS) in Irvine was up 3.9% to $16.96 and a $499 million market cap. Shares of the youth fashion retailer have risen 13% this month.