5 Restaurant Chains in Top 50
Tuesday, August 7, 2018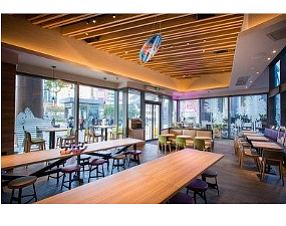 Five quick service restaurant chains based in Orange County—or soon to be—made trade magazine QSR's list of the 50 largest such companies in the U.S., ranked by 2017 systemwide sales.
"Quick service" focuses on the fast food industry but includes pizza delivery and fast casual operators.
The five from OC were:
• Taco Bell at No. 5 with $9.8 billion
• Chipotle, No. 12 with $4.5 billion
• El Pollo Loco, No. 34 with $842 million
• Del Taco, No. 38 with $784 million
• In-N-Out Burger, No. 43 with $648 million
By average unit volume, In-N-Out was OC's top producer at about $2 million, Chipotle and El Pollo Loco are each at about $1.9 million, and a Taco Bell or Del Taco location brings in about $1.5 million.
McDonald's is the largest U.S. fast food chain with $37.5 billion in systemwide sales.
Chick-fil-A is the largest chain by per-unit volume with $4.1 million.
OC legacy brand Carl's Jr., which recently moved its headquarters to Tennessee, ranked No. 26; it had $1.5 billion in systemwide sales and $1.3 million average unit volume. Sister chain Hardee's ranked No. 23; with $2.2 billion in systemwide sales and $1.2 million AUV.