Din Tai Fung Expands
Monday, August 6, 2018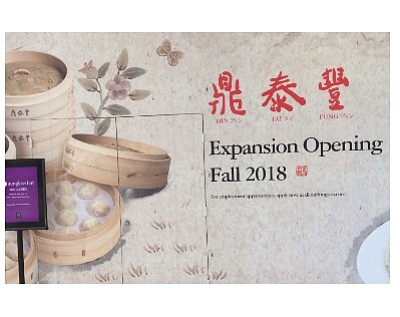 Popular Taiwanese restaurant chain Din Tai Fung is expanding its only Orange County location, at South Coast Plaza shopping center in Costa Mesa.
The restaurant, known for its lineup of soup dumplings, as well as wait times that can often last an hour or more, will take over space next door to its current location that was previously used by a Sunglass Hut.
Signs posted at the restaurant say the expanded space will open this fall.
Din Tai Fung opened in South Coast Plaza four years ago. Its current space is about 8,000 square feet and reportedly accommodates 225 diners.
The restaurant's original U.S. location is in Arcadia. It now lists five locations in Los Angeles County and plans to open one in San Diego.
It's been a good news week for dumpling fans in Orange County. Last week brought reports that Tim Ho Wan, a Michelin-starred, Hong Kong-based dim sum chain, will open a location at Diamond Jamboree shopping center in Irvine.