Taco Bell Quarter Mixed
Friday, August 3, 2018
Share this article: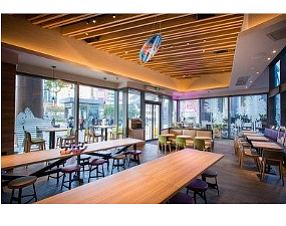 Taco Bell Corp. in Irvine reported lower quarterly operating profit on higher systemwide sales, with same-store sales up, but below expectations and less than the same period a year ago.
Operating profit was $149 million, down 2%; systemwide sales were $2.5 billion, up 5%. Same-store sales were up 2%—a dip from the same quarter in 2017 when same-store sales rose 4%.
The numbers came as Taco Bell parent Yum Brands Inc. (NYSE: YUM) said companywide net income rose to $321 million, up by more than half, on a revenue decline of about 5% to $1.37 billion.
Systemwide sales and revenue are different metrics: more than 90% of Taco Bells are franchised, meaning revenue to the parent company flows largely from royalty payments on sales totals at franchised locations. Average annual revenue for a Taco Bell is $1.5 million; the royalty is 5.5%. The company owns about 600 of its 7,000 locations and is in the process of refranchising most of them.
Taco Bell has said it wants to get to 9,000 restaurants and $15 billion in annual systemwide sales by 2022. Growth is planned both domestically—125 locations in New York City, for instance—and internationally, over that time.
One of the largest—and untapped—markets it wants to fill is China. Yum China Holdings Inc. (NYSE:YUMC) was spun out of Yum Brands two years ago and this week was the subject of acquisition speculation. Hillhouse Capital Management in Beijing, which manages investments for university endowments and sovereign wealth funds, is said to be interested in buying Yum China.
Taco Bell performed well compared with other companies owned by Louisville-based Yum—KFC and Pizza Hut: it matched KFC generally and exceeded Pizza Hut.
Yum Chief Executive Greg Creed said Pizza Hut put money to a marketing push for a premium product—a "double cheesy crust pan pizza—neglecting its "value" items—the inexpensive ones.
"We've adjusted our marketing for the balance of the year to remind customers [we offer] compelling value."
Consumers know Taco Bell, by contrast, does even its value items in a premium way: its nacho fries were originally priced at $1, disappeared for a time, and were then reintroduced—at a buck twenty-five.