Midday Stock Roundup
Tuesday, April 24, 2018
Share this article: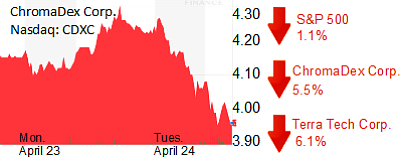 The major indexes fell steeply in midday trading as bond yields briefly topped 3% for the first time in four years, and an Apple partner lowered sales forecasts, triggering fears about iPhone X sales.
The S&P 500 was down 1.1% to 2,640.80 while the Dow Jones Industrial Average fell 1.8% to 24,001 and the Nasdaq dropped 1.6% to 7,015.82.
The yield on a 10-year Treasury bond climbed 1.3% to 2.95%.
The price of gold increased 0.5% to $1,330.
HEALTHCARE
ChromaDex Corp. (Nasdaq: CDXC) fell 5.5% to $4.01 and a $220 million market cap. The Irvine-based maker of ingredients for nutritional supplements yesterday said co-founder Frank Jaksch is stepping down as chief executive and will become executive chairman of the board, replacing Stephen Allen who is retiring. The company elevated President Rob Fried to chief executive.
CANNABIS
Irvine's Terra Tech Corp. (OTC: TRTC) declined 6.1% to $2.78 and a $182 million market cap. The maker of hydroponic equipment for cannabis, produce and herbs has fallen 30% since a 1 for 15 reverse share split on March 13.