JetSuite Gets Qatar, JetBlue Cash
Tuesday, April 10, 2018
Share this article: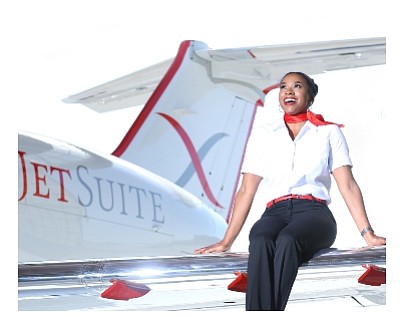 Qatar Airways invested in JetSuite Inc., and JetBlue Airways increased its stake in the Irvine-based charter carrier on undisclosed terms. The companies said the funds will fuel JetSuiteX, the unit of the parent firm that runs "scheduled charter" flights in and to Southern California, Silicon Valley, Las Vegas and north-central U.S. resorts.
JetSuite and JetSuiteX Chief Executive Alex Wilcox told news outlets he plans to add six to 12 jets a year to his fleet, and new destinations, in part from the new funding.
The Business Journal reported in March that Orange County supervisors will consider a proposal to let JetSuiteX fly from John Wayne Airport.
Scheduled charters are a hybrid approach combining the convenience of charter with the pricing of conventional commercial routes. JetSuiteX flies 30-seat Embraer 135 jets on the trips, rather than the four- and six-seat aircraft in its charter service.
JetBlue first invested in JetSuite in 2016. Wilcox is an ex-JetBlue exec, and the Long Island City, N.Y.-based airline runs an industry incubator in Silicon Valley to back emerging technologies.
Qatar Airways Co. QCSC is the state-owned carrier of Persian Gulf state Qatar, based in its capital of Doha. It often takes stakes in airlines: American Airlines turned down its attempt to buy 10% of the U.S. carrier last year; in November it bought 9.6% of Hong Kong-based Cathay Pacific for $661 million. It also owns parts of international airlines based in Chile, Spain and Italy.