Radisson Blu Planned for Anaheim
Thursday, April 5, 2018
Share this article: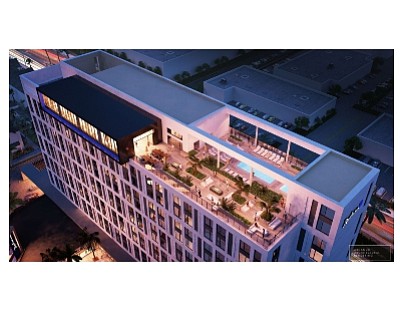 A 12-story, 326-room Radisson Blu hotel is planned in Anaheim, about a mile from Disneyland Resort, with an opening scheduled for 2020.
The site is a bit off-the-beaten path from the Disneyland-to-Platinum Triangle route along Katella Avenue—east of the Santa Ana (5) Freeway at 1601 S. Anaheim Blvd., but still within a short shuttle or ride-sharing trip for a theme park visit or dinner and a House of Blues show at GardenWalk.
The developer is Portland, Ore.-based BPM Real Estate Group.
Radisson Blu is a newer, upscale take on Radisson hotels; there are only three others in the U.S.: two in the company's U.S. home in the Twin Cities area of Minnesota and one in Chicago.
Planned amenities in Anaheim include "a ground-level family activity space, rooftop pool and bar, fitness center, 6,700-square-foot restaurant and 353 parking spaces," news reports said.
The Anaheim hotel is about "executing on our plan for expansion in [21] key gateway markets and further establishing our Radisson Blu brand in the U.S.," Ken Greene, president of the Americas for the Radisson Hotel Group, said in a statement.
Radisson Hotel Group is a hotel holding company built from acquisition and mergers by Chinese conglomerate HNA Tourism Group; it includes the former Carlson Hotels, which HNA bought in April 2016 for $2 billion.
RHG is the 11th-largest hospitality company globally with about 1,400 hotels open or in development. Annual revenue since 2015 has been flat at about $7.2 billion. Its eight hotel flags include Country Inn & Suites, three Radisson brands and Park Plaza Hotels & Resorts.

Under its new owners and with a new name the company launched a five-year, $200 million rebranding effort and has said it plans to add 70,000 rooms globally by 2022.