Midday Stock Roundup
Tuesday, April 3, 2018
Share this article: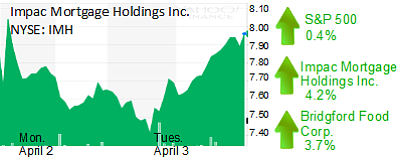 The S&P 500 climbed 0.4% in midday trading to 2,590.87.
The Dow Jones Industrial Average increased 0.5% to 23,760.25.
The Nasdaq rose 0.1% to 6,878.69.
The yield on a 10-year Treasury bond increased 1.5% to 2.77%.
The price of gold dropped 0.7% to $1,338.
FINANCE
Impac Mortgage Holdings Inc. (NYSE: IMH) in Irvine rose 4.2% to $7.96 and a $259 million market cap. Shares of the mortgage lender are still down 52% from their 52-week high last May.
MANUFACTURING
Anaheim-based Bridgford Foods Corp. (Nasdaq: BRID) increased 3.7% to $14.93 and a $135 million market cap. Volume was about 6% of its daily average of the past three months. Bridgford, which makes frozen and snack food products, has plunged 30% since its 52-week high on March 6.