Midday Stock Roundup
Monday, April 2, 2018
Share this article: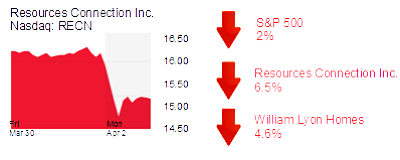 U.S. stocks declined across the board on worries about technology stocks and global trade. The S&P 500 dropped 2% to 2,586.41, while the Dow Jones Industrial Average fell 2.1% to 23,594.07. The Nasdaq plunged 2.4% to 6,891.07.
The yield on a 10-year Treasury bond increased 0.3% to 2.75%.
The price of gold climbed 1.1% to $1,338.
SERVICES
Irvine-based Resources Connection Inc. (Nasdaq: RECN) fell 6.5% to $15.15 and a $475 million market cap. The consulting firm is still up 26% from its 52-week low in August.
REAL ESTATE
Newport Beach-based William Lyon Homes (NYSE: WLH) dropped 4.6% to $26.22 and a $1 billion market cap. Other Orange County-based real estate firms also fell, including The New Home Company Inc. (NYSE: NWHM), down 4.7%, and Tri Pointe Group Inc. (NYSE: TPH), off 4%.