Great Park Neighborhoods Plans Medical Campus
REAL ESTATE: TO BE CENTERED ON CANCER FACILITY
Monday, April 2, 2018
Share this article: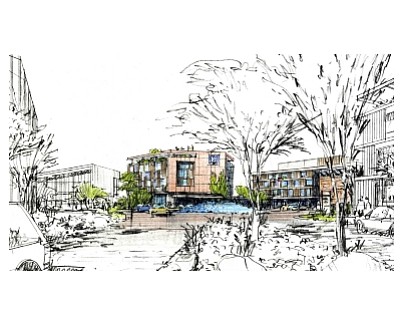 Five Point Holdings LLC in Aliso Viejo and Duarte-based City of Hope will build a $200 million "best-in-class" outpatient cancer treatment facility at Great Park Neighborhoods in Irvine to anchor an 18-acre medical center campus.
Five Point Chairman and Chief Executive Emile Haddad said he envisions it "elevating the experience" at the master-planned community.
"From our perspective, we're building a small city," he told the Business Journal last week. "That's what we do as a company. [This] is part of the whole lifestyle" the company wants to foster.
Five Point is the parent company for the project, Newhall Ranch north of Los Angeles, and San Francisco Shipyard/Candlestick Point in San Francisco, the latter two in entitlement or development.
A combined 40,000 homes and 21 million square feet of commercial space is planned for the three projects.
Till It Helps
Apart from an amphitheater and a 175-acre sports park, the cancer center is the first nonresidential, nonoffice project in the Great Park community and the first in Orange County by City of Hope, whose parent company has 17 other Southern California facilities.
Five Point Holdings' development arm, FivePoint, leads the joint venture overseeing Great Park Neighborhoods: Great Park Venture, which is donating the land for the 70,000-square-foot cancer center.
Haddad said the medical campus will also have a general outpatient clinic, medical offices, a senior housing/assisted living facility, homes for employees, and an area for religious/spiritual use.
None will be inpatient, Haddad said. A small hotel will allow people who need extended care, along with their families, to stay nearby.
He said that in talks with the medical community, he saw that service is "moving more toward an outpatient experience," which industry groups call 23-hour care—patients come for the care needed without checking in.
"We're not at this point thinking of a hospital," Haddad said.
Five Point will do some facility development and work with "healthcare providers in [their] centers of excellence in different areas" in "collaboration that elevates the whole."
Parent Co.
The parent company issued quarterly numbers last week for the period ending Dec. 31.
Five Point Holdings went public in May, offering 21 million shares at $14 and raising $294 million. It recently traded at $14.25 for a $2.1 billion market cap.
Miami-based homebuilder Lennar Corp., which bought Irvine-based Cal-
Atlantic Group in February for $9.3 billion, owns about 40% of Five Point.
Five Point reported quarterly revenue of about $22 million, mainly from "the sale of remnant parcels [and] management services and … builder fees" and $105 million in "other income" resulting from 2017 tax reform.
Home Health
Land sales at Great Park Neighborhoods totaled $1.7 billion from 2013 to 2017.
Three communities with 2,700 homes—Pavilion Park, Beacon Park and Parasol Park—are 90% to 100% sold out.
Five Point recently sold 103 acres for $475 million at Cadence Park, where 1,007 homes are planned.
City planning documents show an affordable housing project of 723 homes is also in the works.
Haddad said in a press release that 2017 proved "transformational" with its IPO and raising development funds. In addition to the IPO, Five Point sold $500 million in unsecured senior notes in a private placement in November.
"The combination of vibrant job growth and limited housing supply in our core markets bodes well for our land portfolio heading into 2018."