Midday Stock Roundup
Thursday, September 28, 2017
Share this article: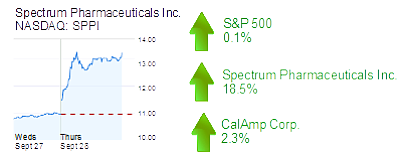 The S&P 500 rose 0.1% in midday trading to 2,509.69.
The Dow Jones Industrial Average was up 0.2% to 22,385.44.
The NASDAQ ticked down 0.1% to 6,450.02.
The yield on a 10-year Treasury bond rose 0.2% to 2.31%.
The price of gold climbed 0.1% to $1,289.
HEALTHCARE
Spectrum Pharmaceuticals Inc. (NASDAQ: SPPI) in Irvine was up 18.5% to $13 and a $1.1 billion market cap on very high volume. The maker of drugs to treat cancer and blood disease released information regarding a study that used one of its products. Spectrum shares had traded by midday at a rate five times its average.
TECHNOLOGY
CalAmp Corp. (NASDAQ: CAMP) in Irvine was up 2.3% to a $749 million market cap. The company, which makes Internet of Things products for transportation, construction, automotive, and energy companies, plans to release quarterly results today after markets close.