Long Beach Airport August Traffic Up
Thursday, September 28, 2017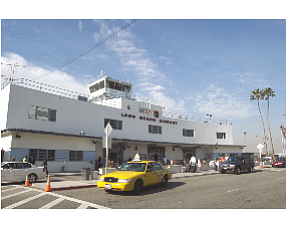 Long Beach Airport said August commercial passenger traffic rose 16% to about 316,000, compared with the same period last year.
Year-to-date passenger traffic was up 39% to 2.5 million.
The Business Journal reported last week that John Wayne Airport in August had about 934,500 passengers, essentially flat year-over-year. Year-to-date passengers totaled 6.85 million, down 1.6%..
Jet Blue Airways was the busiest carrier by passenger count in Long Beach, with about 247,500 passengers -- 78% of the total. Southwest Airlines was next-busiest, with 40,000 -- 13% of the total -- followed by Delta Air Lines, 17,500, and American Airlines, with 11,000.
Southwest's traffic was higher after acquiring reallocated flight slots; the airline is a recent entry at the airport and has quickly ramped up its business there.
American Airlines' traffic declined sharply after giving up slots at Long Beach.