Midday Stock Roundup
Wednesday, September 20, 2017
Share this article: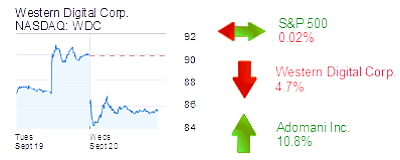 The S&P 500 was flat in midday trading to 2,506.27.
The Dow Jones Industrial Average was flat at 22,378.84.
The NASDAQ was down 0.2% to 6,448.58.
The yield on a 10-year Treasury bond was down 0.2% to 2.24%
The price of gold was up 0.5% to $1,317.
TECHNOLOGY
Western Digital Corp. (NASDAQ: WDC) was down 4.7% to $85.69 and a $25 billion market cap. The maker of memory products lost out on its bid for Toshiba's flash memory operations; a competing $18 billion bid by Bain Capital, Apple and others was chosen. Western Digital maintains operations in Irvine.
Adomani Inc. (NASDAQ: ADOM) in Orange was up 10.8% to $7.48 and a $508 million market cap on very high volume. Shares in the maker of electric drive train systems for fleet vehicles had traded some 610,000 shares by midday, more than four times its average.
HEALTHCARE
Aerie Pharmaceuticals Inc. (NASDAQ: AERI) in Irvine was down 6.5% to $54.80 and a $2 billion market cap on high volume. The eye drug developer had traded about 900,000 shares by midday, twice its 90-day average.