Midday Stock Roundup
Thursday, September 14, 2017
Share this article: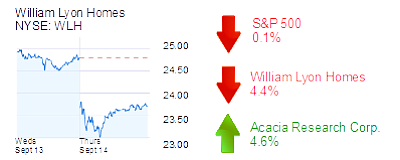 The S&P 500 was down 0.1% in midday trading to 2,496.33.
The Dow Jones Industrial Average was up 0.2% to 22,202.08. (Record close is 22,212.11.)
The NASDAQ was down 0.4% to 6,437.18.
The yield on a 10-year Treasury bond was up 0.3% to 2.20%.
The price of gold rose 0.3% to $1,332.
REAL ESTATE
William Lyon Homes (NYSE: WLH) in Newport Beach was down 4.4% to $23.71 and a $757 million market cap. The builder said a Paulson & Co. Inc. affiliate planned to sell 3.32 million common shares on Monday. Lyon won't receive any proceeds. Credit Suisse is managing and underwriting the offering.
TECHNOLOGY
Acacia Research Corp. (NASDAQ: ACTG) in Newport Beach was up 4.6% to $4.03 and a $210 million market cap on above-average volume. Acacia licenses patents and makes technology investments. It also owns a significant stake in Veritone (see below.)
Veritone Inc. (NASDAQ: VERI) in Newport Beach was up 21% to $30.25 and a $451 million market cap. The company said it would work with Dalet Digital Media Systems in New York, part of a Paris-based broadcaster and software company, to provide the latter company with data collection and analysis.
Adomani Inc. (NASDAQ: ADOM) was down 13.7% to $8.73 and a $594 million market cap. Adomani installs electric drivetrain systems on fleet vehicles.