Midday Stock Roundup
Friday, September 8, 2017
Share this article: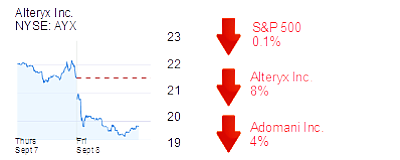 The S&P 500 was down 0.1% in midday trading to 2,463.33.
The Dow Jones Industrial Average was up 0.1% to 21,816.69.
The NASDAQ was down 0.4% to 6,370.84.
The yield on a 10-year Treasury bond was up 0.3% to 2.07%.
The price of gold was up 0.1% to $1,351.
TECHNOLOGY
Alteryx Inc. (NYSE: AYX) was down 8% to $19.75 and a $1.1 billion market cap. Certain shareholders are offering 8 million common shares, plus an underwriter allotment of 1.2 million shares for $21.25 apiece. Alteryx, which makes data analytics software, will not receive any proceeds from the offering.
Adomani Inc. (NASDAQ: ADOM) in Irvine was down 4% to $12.81 and an $872 million market cap. The company retrofits fleets to run as electric vehicles.
Veritone Inc. (NASDAQ: VERI) in Newport Beach was up 19% to $20.78 and a $311 million market cap on above-average volume. The company specializes in media buying and is trying to gain a position in the booming artificial intelligence software segment.