Midday Stock Roundup
Thursday, September 7, 2017
Share this article: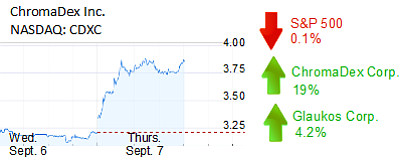 The S&P 500 fell 0.1% in midday trading to 2,462.25.
The Dow Jones Industrial Average was down 0.2% to 21,774.28.
The NASDAQ was flat at 6,391.95.
The yield on a 10-year Treasury bond declined 2.7% to 2.05%.
The price of gold rose 1% to $1,351.
HEALTHCARE
Irvine-based ChromaDex Corp. (Nasdaq: CDXC) jumped 19% to $3.81 and a $183 million market cap. The maker of ingredients for dietary supplements said today it has a new partnership with Hong Kong-based retailer A.S. Watson to launch a dietary supplement in Asia. The Business Journal reported Monday on ChromaDex and its plan to sell products directly to consumers.
San Clemente-based Glaukos Corp. (NYSE: GKOS) increased 4.2% to $41.92 and a $1.4 billion market cap. Shares have risen 19% in the past nine trading sessions. Glaukos makes products to treat glaucoma.