Midday Stock Roundup
Tuesday, October 31, 2017
Share this article: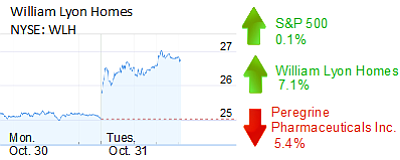 The S&P 500 increased 0.1% in midday trading to 2,576.45.
The Dow Jones Industrial Average dropped 0.1% To 23,372.21.
The Nasdaq rose 0.4% to 6,726.29.
The yield on a 10-year Treasury bond was flat at 2.37%
The price of gold fell 0.6% to $1,270.
REAL ESTATE
William Lyon Homes (NYSE: WLH) rose 7.1% to $26.80 and an $856 million market cap. The Newport Beach homebuilder reported today that third-quarter revenue rose 43% to $490 million and that net income more than doubled to 71 cents a share, both of which topped analyst estimates.

PHARMACEUTICALS
Peregrine Pharmaceuticals Inc. (Nasdaq: PPHM) in Tustin fell 5.4% to $4.56 and a $206 million market cap. Ronin Trading LLC and SW Investment Management LLC, the largest shareholders with 9.6% of Peregrine, issued an investor presentation yesterday as part of their proxy battle that reiterated their view that "a complete overhaul of the boardroom is warranted." Peregrine is developing drugs to combat cancer.