Midday Stock Roundup
Monday, October 23, 2017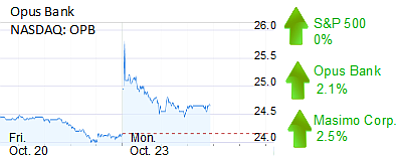 The S&P 500 was flat in midday trading at 2,574.31.
The Dow Jones Industrial Average increased 0.1% to 23,345.61.
The Nasdaq declined 0.1% to 6,621.98.
The yield on a 10-year Treasury bond fell 0.4% to 2.37%
The price of gold increased 0.1% to $1,282.
FINANCE
Opus Bank (Nasdaq: OPB), increased 2.1% to $24.65 and a $922 million market cap. The Irvine-based bank reported third-quarter net income of $20.5 million compared to a loss in the same period a year earlier.
HEALTHCARE
Masimo Corp. (Nasdaq: MASI) rose 2.5% to $88.80 and a $4.6 billion market cap. Shares of the Irvine-based medical device maker have risen 5.4% in the past month. The company is scheduled to report third-quarter results on Oct. 31.