J&J Verdict Overturned
Monday, October 23, 2017
Share this article: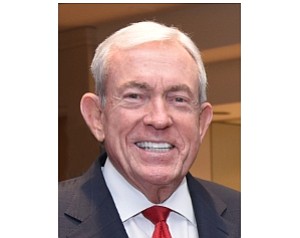 A Newport Beach attorney saw his $417 million verdict against New Brunswick, NJ-based Johnson & Johnson overturned. Mark Robinson Jr. of Newport Beach-based Robinson Calcagnie Inc. represented plaintiff Eva Echeverria, who blamed her ovarian cancer on the company's talc, in the first California trial over the product.
In August, a Los Angeles jury made its decision on behalf of the 62-year-old Los Angeles woman. The jury found Johnson & Johnson and its consumer-products unit liable for failing to warn Echeverria about the risk of Johnson's Baby Powder. The verdict included $347 million in punitive damages.
Late Friday, Judge Maren Nelson overturned the verdict based on criteria including insufficient cause, legal error, jury misconduct and excessive damages.
By redirecting judgment in favor of Johnson & Johnson, an appellate court would have to reverse Judge Nelson's ruling in order for the plaintiff to get a new trial. Robinson told the Business Journal Monday he will appeal.
"I will be appealing the court's order fairly soon," Robinson told the Business Journal. "I believe the plaintiff can prevail on appeal."
Robinson didn't comment on Judge Nelson's reasons for overturning the verdict.
"I appreciate that we have our jury system, Robinson said. "A jury of her peers gave my client a fair verdict. The court saw otherwise."
J&J issued the following statement: "We are pleased with Judge Maren Nelson's ruling. Ovarian cancer is a devastating disease – but it is not caused by the cosmetic-grade talc we have used in Johnson's Baby Powder for decades. The science is clear and we will continue to defend the safety of Johnson's Baby Powder as we prepare for additional trials in the U.S."
Johnson & Johnson had appealed the verdict. It has said the plaintiffs' allegations aren't supported by scientific evidence, pointing to a New Jersey state court decision last year tossing out two cases set for trial. The $417 million verdict was the third-largest jury award in the U.S. so far this year, according to news reports.
Robinson is the founder and owner of his Newport Beach law firm. He's representing hundreds more women with ovarian cancer, allegedly from the company's talc.