Braille Institute Breaks Ground on New Center
Thursday, October 12, 2017
Share this article: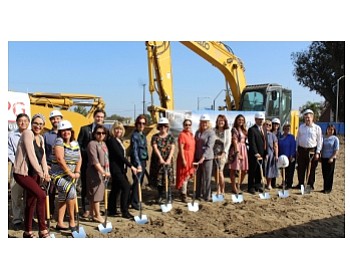 The Braille Institute broke ground today on a $10 million center that's expected to open next fall at 527 N. Dale Ave. in Anaheim.
The approximate 14,700 square-foot building will replace an aging collection of homes that weren't meant to be an educational institution, according to the institute. The new building will provide services for children, teens, adults and seniors.
October is Blindness Awareness Month. The institute said the new center signifies the importance of accessible programs for those with "low vision" as well as the significance of services to foster independence and self-esteem among those who are blind or are losing their eyesight.
The nonprofit institute began serving the Orange County region in 1934 through its Los Angeles headquarters. An office opened in Garden Grove in 1967 and then moved to the N. Dale Ave. location in 1971. The institute provides a broad range of free programs and services to people of all ages with vision loss.
The institute said the Anaheim location serves more than 7,000 children, adults and seniors annually who live in Orange County, south Los Angeles County and parts of Riverside County. The new building will enable the organization to expand services. Features will include a learning resource center that integrate services, including technology training, low vision rehabilitation, library services, braille literacy, and counseling. There will also be upgrades to the institute's daily living education center, to help clients develop independence. And, new creative arts classrooms and studios will provide multi-purpose space.
While construction continues on the new center, programs and services will continue across the street at the Anaheim Christian Reformed Church.
More than half of the $10 million has already been raised by donors, the institute said.