Midday Stock Roundup
Wednesday, October 4, 2017
Share this article: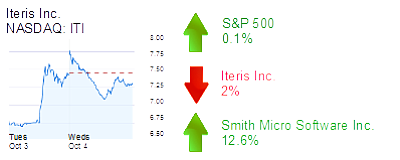 The S&P 500 was up 0.1% in midday trading to 2,536.32.
The Dow Jones Industrial Average rose 0.1% to 22,664.08.
The NASDAQ declined 0.1% to 6,526.78.
The yield on a 10-year Treasury bond fell 0.1% to 2.33%
The price of gold was up 0.2% to $1,277.
TRANSPORTATION
Iteris Inc. (NASDAQ: ITI) in Santa Ana was down about 2% to $7.29 and a $238 million market cap. Shares in the traffic sensor maker rose more than 11% yesterday when it confirmed a $5.5 million initial contract for its role in a $1 billion I-405 improvement project.
TECHNOLOGY
Smith Micro Solutions Inc. (NASDAQ: SMSI) in Aliso Viejo rose 12.6% to $1.25 and an $18 million market cap. The mobile and wireless software maker raised $2.4 million, after expenses, and repaid $2.8 million in debt, via a private placement of $5.5 million worth of preferred shares at a conversion price of $1.14, or about 4.8 million common shares. Smith Micro had about 14.3 million shares outstanding prior to the placement.