September Sales Mixed for OC Automakers
Tuesday, October 3, 2017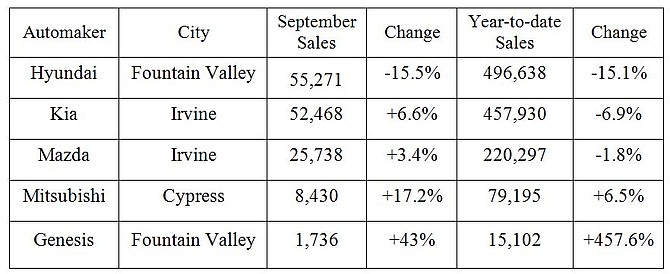 A majority of Orange County-based automakers beat the national sales pace for new vehicles in September, according to New Jersey-based market researcher Autodata Corp.
U.S. auto sales increased 6.1% year-over-year, adding 1.52 million cars and light trucks last month, and are on track to reach 18.57 million for the year.
Genesis Motor America reported a 43% increase in September, its second month of comparing sales to a year-ago period. It started operating separately from Hyundai in the second half of 2016, the reason for its year-to-date 457.6% increase. Mitsubishi posted a 17.2% increase.
U.S. dealers have sold 12.87 million vehicles this year, a 1.8% dip compared with the first nine months of 2016.