Marriott's Main Man
OLSON'S LIDO, IRVINE HOTELS PREP TO OPEN
Monday, October 2, 2017
Share this article: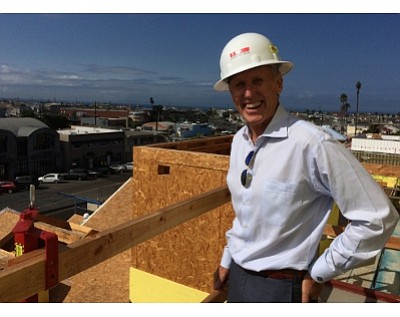 A mid-September tour of the under-construction Lido House Hotel in Newport Beach has turned into an impromptu architectural design review for Bob Olson.
"Guys, the shutters are too small," says Olson, pointing out some prospective window-lining features at the 130-room project to a handful of workers at the site.
The window shutters will get larger, it's agreed. But another proposal—a thought of painting in a small portion of the steel and glass-sheathed outdoor balconies for rooms at the hotel—gets rejected by Olson on aesthetic grounds.
Nearby, a mock-up wall for an outdoor portion of the hotel includes nearly a dozen slightly different dark brick types, one of which—sourced from Temecula—will be selected as the go-to look for a portion of the exterior of Lido House, which is scheduled to open in early February.
As the tour continues, it's clear Olson hasn't planned a cookie-cutter hotel at the four-story hotel, which runs about 103,000 square feet on Newport Boulevard.
"This project is very personal to me," said Olson, who heads Newport Beach-based R.D. Olson Development.
It's a statement he'll make several times on the tour of Lido House.
It's the first hotel project in the city for Olson, who didn't have to look far for inspiration in designing the estimated $70 million development being built at the site of Newport Beach's former city hall.
The hotel's Cape Cod-influenced style, referred to as "Newport nautical" by Olson, largely mirrors the architecture at his own home on Balboa Island.
The home, it appears, doesn't have small shutters. But it does have many of the same paint schemes, masonry and outdoor siding that visitors will soon see at Lido House.
Among the more notable flourishes at the hotel is Mayor's Table restaurant—a nod to the location's former role in civic life.
Branding the hotel "Bob's Home" isn't in the cards. Lido House will fall under the umbrella of Marriott International's Autograph brand, an eclectic collection of about 125 luxury lifestyle hotels that the Bethesda, Md.-based firm operates.
It's the first Orange County hotel to be given the Autograph designation, a boutique brand which is "unique in design and thoughtful in spirit," according to Marriott.
Other regional hotels under the Autograph umbrella include Triada in Palm Springs and Pier South Resort in San Diego.
"If you are coming to Newport Beach, you will want to stay here," Olson said, citing Lido House's beachy vibe, on-site dining and bar areas, and proximity to the nearby and newly revitalized Lido Village shopping area, among other nearby waterfront amenities.
Rooms will average about $300 a night.
A few will go for much more; the hotel includes a collection of five multifloor suites averaging about 1,500 square feet each, with rooftop patios, among other features.
Busy Stretch
Olson, 61, started Irvine-based R.D. Olson Construction in 1979, then his development company in 1997. It's been the most active hotel developer in California, if not the entire U.S., for several years running. It's built nearly 2,000 rooms over the past five years at an estimated cost of $500 million, not including those under development now.
A majority of those recently built hotels operate under a variety of Marriott flags, including Tustin's Fairfield Inn & Suites and Residence Inn, both of which opened in 2013, plus a Residence Inn in San Juan Capistrano that opened in 2012, and Courtyard by Marriott that opened in the Irvine Spectrum in 2014. The projects totaled about 630 rooms.
R.D. Olson has also built Hilton-branded hotels and other non-Marriott projects, such as Huntington Beach's Paséa Hotel & Spa, a 250-room hotel that opened last year and is run in a venture with Irvine-based Pacific Hospitality.
The next few months will cap off one of the busiest stretches for privately held R.D. Olson Development over the past decade, thanks to two local Marriott projects wrapping up work within a little more than a two-month period.
The company's nearing completion of the 15-story Irvine Spectrum Marriott, the first full-service hotel to be built in the city in over 10 years.
It's next to the company's eight-story Courtyard by Marriott Irvine Spectrum, which cost about $50 million to build.
The latest and taller Irvine project has an estimated development cost of nearly $120 million, and will feature a two-story fitness center and 13,000 square feet of meeting space. It's scheduled to open late next month, and should also have room rates approaching $300 per night.
It'll be the first full-service Marriott to open in the region in nearly 30 years, according to Chris Harrison, general manager of the Spectrum hotel.
Harrison knows his history. He's the great-grandson of J.W. Marriott Sr., founder of Marriott Corp., and he said the hotelier chose Irvine and Newport Beach for the two new high-end Marriotts for a reason. "Orange County is one of the places that's shown the most strength (in hotel rates and occupancy) since the recession," he said.
The Spectrum tower will employ nearly 130. Lido House, meanwhile, is likely to employ close to 80, according to General Manager Adam Beer.
Both Beer and Harrison expect their respective hotels to draw their share of locals; each will have rooftop bars, in addition to on-site restaurants, spas, coffee shops and other features.
While the new hires get trained, Olson said he's relied heavily on the "deep bench" of Marriott that's assisted his firm during the construction process.
Among others on-site during the tour last month was Marriott's corporate chef, who was getting an overview of the kitchen at Lido House.
Kudos
The Marriott-Olson partnership was forged 15 years ago and has been especially fruitful the past few years.
This summer, R.D. Olson was named developer of the year by Marriott International, one of several related honors it's gotten from Marriott the past few years.
The developer was lauded in the announcement of the award for its "development of hotel projects in high-barrier markets such as California and Hawaii."
R.D. Olson has developed 18 Marriott brand hotels in the Western U.S.; outside OC, recent projects have included a 200-room Residence Inn by Marriott in Maui, Hawaii, and the 144-room Residence Inn by Marriott in Old Town Pasadena, plus projects in Silicon Valley and Goleta totaling another 322 rooms.
"Their commitment to growing award-winning hotels in high-barrier-to-entry locations is what makes the partnership so valuable," said Eric Jacobs, North America chief development officer for Marriott International.
The Autograph Collection hotel in Newport Beach and the full-service Marriott Spectrum projects are the first of their types R.D. Olson has built.
"They were a natural fit—they fill that hole in the donut" among Marriott's collection of properties in OC, he said.
There are only a few Marriott-branded hotel types that Olson hasn't tackled, most notably the Ritz Carlton and J.W. Marriott brands, two of its luxury offerings.
Olson said taking up either of the two upscale brands "would be a natural progression" for his firm, which is scouting California locations outside of OC for both.
In OC, his company has its eyes on a few other projects, with at least one more waterfront site being considered. The Business Journal reported last month that his firm was among the remaining teams bidding for the redevelopment of Dana Point Harbor, a project potentially worth $200 million.